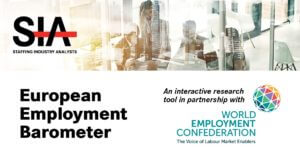 The rise of freelance work and the impact of online platforms are highly debated topics in today's world of work. To better understand the extent of the phenomenon, the Oxford Internet Institute set up the Online Labour Index to track the projects posted on the five largest English-speaking language online labour platforms. Those platforms represent 70 percent of the global market.
The World Employment Confederation and Staffing Industry Analysts now offer access to these data through their joint online research tool, the European Employment Barometer. Users can find data on supply and demand for labour in the online gig economy across different countries and occupation, for instance:
The daily average number of new projects increased by 23% between 2016 and 2019.
The vast majority of projects (40%) are posted by employers from the USA. Around 24% of jobs are posted from Europe, with the UK alone contributing nearly 9% of postings. 19% of all projects originate in Asia and Oceania, with 9% coming from Australia.
Nearly 70% of workers taking those freelance jobs are located in Asia, with most being hired for projects in the fields of software development and technology, creative and multimedia, and sales and marketing support. Europe is home to around 15% of global online gig workers (mostly in the fields of creative and multimedia, as well as writing and translation). North America and Africa represent around 9% and around 5% of workers respectively.
Agency work: decrease in hours worked
The European Employment Barometer tool can be used to track data and market trends related to the employment situation and agency work in Europe. The provided metrics can also be used to correlate indicators with economic factors to illustrate relationships between economic trends and temporary agency work; and to compare cross sections of specific data. The Barometer is updated every quarter with the latest Eurostat figures and data on agency work provided by the national staffing associations that are members of the World Employment Confederation-Europe.
The 2019 second quarter update of the Barometer show an overall decrease in the number of hours worked by agency workers. Against the backdrop of an overall economic slowdown, the last quarter of 2018 even turned negative, a first since the third quarter of 2013. Accordingly, revenue growth of the agency work sector has slowed down simultaneously for most countries in Europe. Only exception is Spain, where hours worked remained stable and revenue went slightly up.